Calendar of Events and Classes
We welcome familiar and fresh energy to our upcoming public events, workshops, seminars, and classes.
As Ben Richardson said, "The more painters there are out there, the more screens there are."
If you would like to volunteer
to help at future events,
please
contact us
.
2020 Calendar at a Glance
Please check ahead for event schedule changes due to Coronavirus-19
Be safe. Stay healthy.
Throughout the year:

Highlandtown Gallery

Painted Screens Exhibit, Tours and Workshops

Baltimore, MD

March 8, Screen painting workshop at

Rehoboth

Art League, 1pm - 4pm, with John Iampieri,

Rehoboth, MD

March 19 thru April 23,

Thursdays, 1:30 - 3 pm,

Lifelong Learning Screen Painting Class

at

Shepherd University, W. Va. Shepherdstown, W. VA, with Clare Chesnavage

March 13,

Friday's "On the Record" talk show, 9:30-10:00 am on 88.1 WYPR FM (Listen now)

Double check your cable listings - there are slight variations among cable providers
Watch Elaine Eff discuss painted screens starting at minute 12:11.
Sat, April 18,
Screen painting demonstrations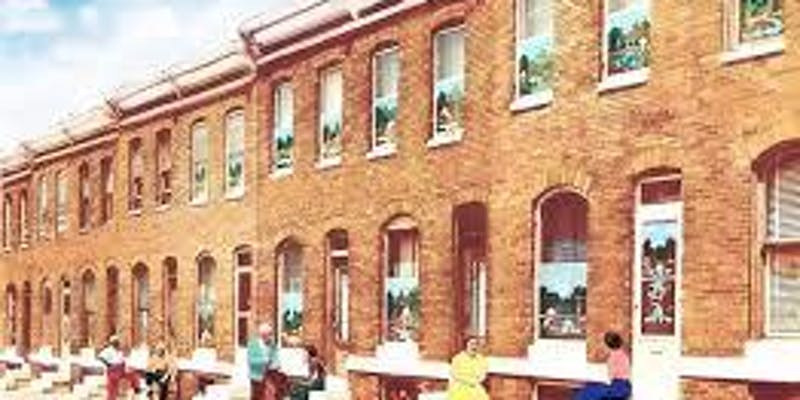 Painted Screens Exhibit, Tours and Workshops
Friday, March 13
"On the Record" talk show
9:30-10:00 am on 88.1 WYPR FM
Elaine Eff and Highlandtown Gallery owner Felicia Zannino-Baker go on "On the Record"
A Diverse Collection of Baltimore's Painted Screens
248 South Conkling Street • Baltimore, MD 21224
(410) 327-7035
New extended Gallery Hours: Wed 12-6 pm, Thurs/Fri/Sat 8am - 6pm
on September 11-13, 2020.
Thank you for visiting our displays in the Hyatt Regency lobby on October 16–19, 2019.
Classes and Workshops
What better way than to carry on a tradition than to teach it to others?
Classes are regularly offered at sites around Baltimore and the surrounding region.
On-going programs taught by Master Screen Artists are offered on demand and seasonally.
Consider a private screen painting party featuring a class in your own home to teach adults and children.
No matter the venue, you will have the secrets and a finished screen in hand at the end of the class

.
Contact the school or the instructor for additional details
Screen painting workshops with John Iampieri

for the public:



Private art residences with John Iampieri:

Feb 18th thru March 2nd at Arnold Elementary 3rd & 5th grade (200 students)

March 16th thru 20th at Seven Oaks Elementary 5th grade (100 students)

March 30th thru April 6th Willards Elementary Pre-K (45 munchkins)

April 14th thru 20th Bates Middle (100 students)

April 27th thru May 1st Mt St Joseph High School (100 Jr's & Sr's) John's high school Alma Mater!



Was held Tues, Feb 25th, 6 - 9 pm

10016 Old Ocean City Blvd, Berlin MD 21811







Screen Painting Folk Art with Lisa Marie Penn
1202 Ridgely Street,
Baltimore, MD
Thursdays, March 19 thru April 23
, 1:30 - 3 pm
March 19, 26 and April 2, 9, 16, 23
For information, see page 8 of the Spring 2020 Semester course catalogue
Let's Paint Our Town: Window Screen Paint 'n Sip Workshop
at the Creative Alliance, Eastern Ave, Baltimore
Saturday, April 18 in the Marquee Lounge, 1pm - 4 or 5* pm
Painted Screen Workshop with
Michael Seipp
Five Sessions, 1pm to 3:45 pm
Jim Rouse Visionary Center - 1st floor
House & Home Exhibit
featured a painted screen door by Master Painter Dee Herget,
2012 - 2017






Pop-Up Shop!

June - October 2018. CLOSED for the season.

Location: 3522-A Bank Street @ Conkling St