Calendar of Events and Classes
We welcome familiar and fresh energy to our upcoming public events, workshops, seminars, and classes.
As Ben Richardson said, "The more painters there are out there, the more screens there are."
If you would like to volunteer
to help at future events,
please
contact us
.
Upcoming Events
Important Dates:
Next Painting Class - Saturday, August 19th
Next Art Walk - Friday, September 1st
June 2 through September or beyond, Baltimore Painted Screens
Pop-Up Shop!
Something Old, Something New!
Open: First Friday evenings and Saturday's 11:00 AM - 5:00 PM
Location: 3522-A Bank Street @ Conkling St
(Entrance on Conkling between the "Red Roof" awnings.)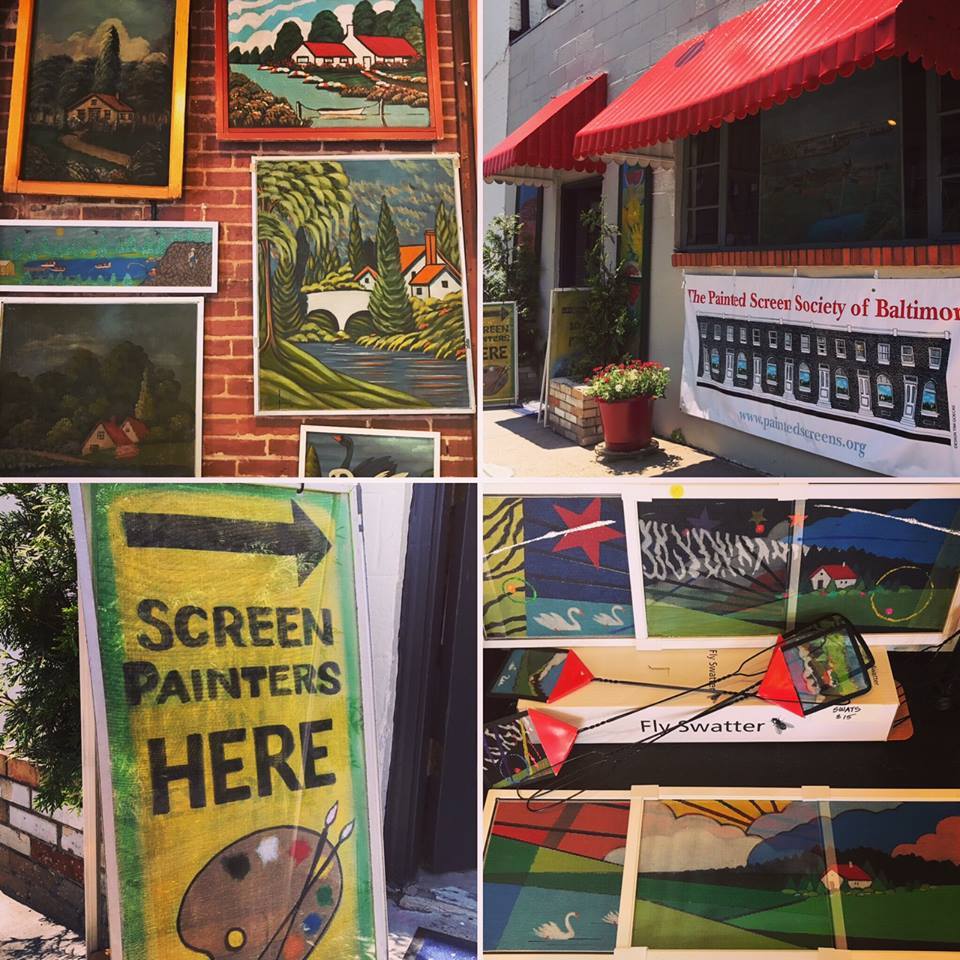 A calendar of special Painted Screen events is in the works. This will be a great opportunity to have your screen painted or possibly learn to do it yourself!
In addition to "exhibited" work, there will be screens for sale as well as painted screen inspired objets d'arte. Not to mention
THE BOOK
and the Movie!
SCREEN PAINTING CLASSES at the POP-UP!
Saturday, August 19, 1-4 pm, $30 pp - Registration is open
More dates to be announced for September
SCREEN PAINTING CLASSES at the PoP-uP
Registration and Information
Our next class is August 19, 1-4 pm.

3522 Bank St, Highlandtown. Entrance under the Red Awning on S. Conkling.
Participants will paint and take home your very own small 10"x 20" screen! All supplies are provided.

Drop-ins are welcome.
$30 fee, payable at the door or ahead of time if you wish to guarantee a seat.
To guarantee a space, your payment must be received by Wednesday, August 16th.

(See payment instructions below.)



Please wear suitable clothing for painting or a cover-up to protect from spills or splatters. The classroom space will be air conditioned, but feel free to bring a drink to refresh during the hot summer afternoon.
If you wish to reserve your space, please prepay online with credit card via PayPal, go to my Buy-Online page at http://www.paintedwindowscreens.com/buy-on-line.php and Select Option 5, $30 USD.
Contact the instructor at AnnaPasqualucci@gmail.com for details
or
Sign up at the Pop-Up
or

[old events and classes shown here- must update]
October 25: The Baltimore Museum of Art: Imagining Home, 11 am - 5 pm
-
Hands on demonstrations with screen painters Anna Pasqualucci and John Iampieri
- Book signing and discussion with Elaine Eff author of The Painted Screens of Baltimore: An Urban Folk Art Revealed
Ongoing Exhibitions:
House & Home Exhibit opened May 8, 2012 - May 2017
See painted screen door by Master Painter Dee Herget

Jim Rouse Visionary Center - 1st floor
Classes and Workshops
What better way than to carry on a tradition than to teach it to others?
Classes are regularly offered at sites around Baltimore and the surrounding region.
On-going programs taught by Master Screen Artists are offered on demand and seasonally.
Consider a private screen painting party featuring a class in your own home to teach adults and children.
No matter the venue, you will have the secrets and a finished screen in hand at the end of the class

.
Contact the school or the instructor for additional details
Instructor:
Catherine "Pat" Michalski